Did Wisconsin Senate choose nuclear option in collective-bargaining fight?
Republicans in the Wisconsin Senate vote to strip key public-sector unions of collective bargaining rights, despite the fact that no Democrats were present. The vote is a bid to protect core budget cuts to public-employee benefits, Republicans say. But is that necessary?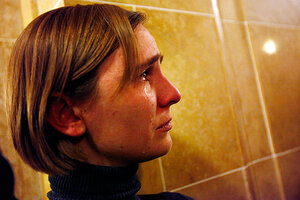 M.P. King/Wisconsin State Journal/AP
The Wisconsin Senate on Wednesday took decisive and controversial action in its weeks-long battle with Democrats and the labor unions for which they have been fighting. In an 18-to-1 vote, Senate Republicans moved to strip many state workers of their collective-bargaining rights.
Senate Democrats had fled the state in mid-February to deny Republicans a quorum and prevent this vote. But Senate Republicans decided yesterday that they could detach the collective-bargaining provision from the broader "budget repair bill" and vote on it without a quorum. A quorum would have been needed on any bill that affects spending.
A Democratic member of the Assembly present in the Capitol, Rep. Peter Barca, said that the Republicans' procedural maneuvers violated Senate rules. The Assembly is expected to vote on the bill Thursday.
The Republican insistence on stripping collective bargaining from many key state unions has invoked the wrath of labor unions and their supporters nationwide – even President Obama. They call it a needless and politically motivated ploy to bust the power of public-sector employee unions.
---