Gov. Jerry Brown misses his own budget deadline. Is that a big deal?
California Gov. Jerry Brown wanted to have spending cuts passed by the Legislature and a June 7 special election called by Thursday. Missing that deadline could complicate his already complex budget solution.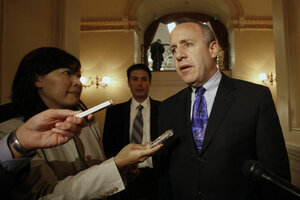 Rich Pedroncelli/AP
Seven days after taking office Jan. 3, California Gov. Jerry Brown proposed a bold, three-pronged approach to deal with the state's $25.4 billion deficit: first pass legislative spending cuts, then hold a special election to extend certain tax rates, and finally send the full budget to the Legislature.
His deadline for setting this complex budget solution in motion: 60 days.
Thursday, that 60-day so-called "B-day" deadline expires. As a self-imposed deadline, there is no immediate penalty for missing it. But it does throw into doubt whether Governor Brown will be able to call his special election by June 7, which had been his plan in order to pass the full budget by the state-imposed June 15 deadline. State law requires that special elections be called 131 days before the vote.
The hangup is what it has always been: partisan wrangling. Brown's task is to convince two-thirds of state legislators to support the special election. But Democrats are two votes shy of a two-thirds majority in the Assembly and three votes shy in the Senate, meaning Brown needs Republican support.
Republicans balk
Republicans say there is plenty of time for legislators to come up with a budget that doesn't include five more years of the same taxes. They don't buy Brown's claim that he is providing a balanced solution by closing the budget gap with $12 billion in cuts and $12 billion in tax extensions.
"Some of the 'cuts' include borrowing and one-time savings; the taxes are for five years," says Sabrina Lockhart, spokeswoman for Republican Assemblywoman Connie Conway. She also says California voters last November already said "no" to Proposition 21, which would have increased fees for state parks, and Proposition 26, which required two-thirds voter approval for fee hikes.
"The voters are in no mood for tax hikes," says Ms. Lockhart. "Why waste time and valuable money letting them vote on the issue?"
---