Light bulbs in spotlight as senators lambaste US efficiency standards
A Senate hearing on Thursday produced fireworks over light bulbs, as conservatives urged repeal of US energy-efficiency standards they see as anticonsumer and paternalistic.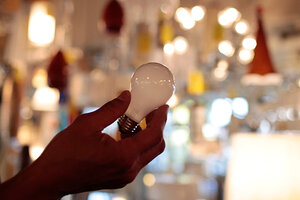 Jae C. Hong/AP/File
The lowly light bulb came in for closer congressional scrutiny Thursday, amid claims that federal energy-efficiency standards are a dim bulb idea.
At the center of the matter is the BULB Act, legislation that has 27 cosponsors in the Senate and a companion bill in the House. It would repeal the part of a 2007 law that toughened energy-efficiency standards for light bulbs, lambasting the standard as overregulation that is paternalistic and anticonsumer.
The hearing on the legislation, like the incandescent bulb at the center of the fight, produced about 95 percent heat and 5 percent light. Even as freshman Sen. Rand Paul (R) of Kentucky, a tea party favorite, argued against the need for efficiency standards for light bulbs, the industry's representatives said the 2007 law had improved their competitiveness and created more consumer choice.
SPECIAL REPORT: The future of energy
Lighting represents about 10 percent of a typical US household's electric bill, and new-style light bulbs that meet standards set by Congress in 2007 could save consumers nearly $6 billion in 2015, Kathleen Hogan, deputy assistant secretary for energy efficiency, told the committee. One household that upgraded 15 inefficient incandescent light bulbs could save as much as $50 per year, she said.
That did not sway supporters of the Better Use of Light Bulbs (BULB) Act, who characterized their bill as a bid to throw off heavy-handed federal regulation and a government-knows-all approach, while widening consumer choice.
---