Who's testifying at controversial House hearing on radical Islam in US?
Radicalization in the American Muslim community is topic of a House hearing on Thursday, and witnesses are likely to offer competing views of the threat. Critics say it's unwise to single out Islam and the Muslim community.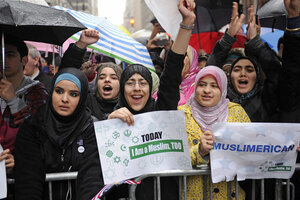 Henny Ray Abrams/AP
Amid heightened security and expected protests, the House Committee on Homeland Security on Thursday launches the first in a series of hearings on the threat of radicalization in the American Muslim community.
Witnesses are expected to present competing views of the extent of this threat. Families of radicalized or "brainwashed" young Muslim Americans will tell of their efforts to find out what happened to their sons – and of the failure of Muslim organizations to help. In contrast, a Los Angeles sheriff will describe the strong ties he has developed with the Muslim community and how its members helped avert terrorist attacks.
According to the witness list, no law enforcement officials have been called to support claims by chairman Peter King (R) of New York that US Muslim leaders overall have not cooperated with the police or Federal Bureau of Investigation and have encouraged others not to help. Neither Attorney General Eric Holder nor FBI Director Robert Mueller are scheduled to appear. Both have spoken recently about how cooperation from the Muslim community has exposed attack threats.
---