Why did Peter King take on CAIR at radicalization hearings?
At the hearing on 'radicalization in the American Muslim community,' Rep. Peter King takes particular aim at the CAIR, the largest US Muslim civil-rights organization.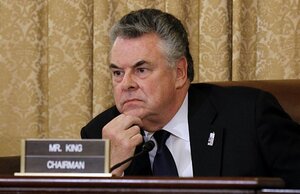 Alex Brandon/AP
In opening his controversial hearings this week about "radicalization in the American Muslim community," Rep. Peter King (R) of New York targeted one group in particular for pointed criticism: the Council on American-Islamic Relations (CAIR).
In doing so, he took on what's generally considered to be the largest Muslim civil-rights organization in the country. Depending on one's point of view, CAIR is either a legitimate group standing up for the rights of law-abiding American Muslims at a time of increased "Islamophobia," or it has questionable connections to organizations promoting or supportive of terrorism.
Just what is CAIR?
Established in 1994, CAIR is a nonprofit organization with 33 chapters in the United States and Canada. The organization's stated mission is "to enhance the understanding of Islam, encourage dialogue, protect civil liberties, empower American Muslims, and build coalitions that promote justice and mutual understanding."
It has been directly involved in issues such as the proposed Islamic center near 9/11's "ground zero" in New York and the related instances and threats of Koran burning. It has taken legal action on behalf of Muslims – the right to wear head scarves in work places, for example. It has repeatedly condemned terrorism, worked with law enforcement agencies, and promoted a peaceful view of Islam.
Pointedly, CAIR was not invited to testify at today's hearings before the Committee on Homeland Security, which Congressman King chairs.
---