How Eric Cantor wants to change the House – and the Republican Party
As the No. 2 Republican in the House, majority leader Eric Cantor will have his hands full navigating fired-up freshmen members through a series of controversial votes.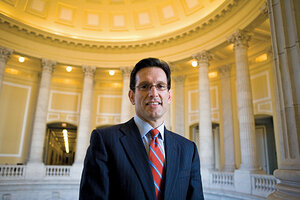 Keith Lane/Special to The Christian Science Monitor
From his first term in the House, Rep. Eric Cantor conveyed a sense that his rise through Republican ranks was inevitable.
After securing an A-list assignment to the Ways and Means Committee, he was appointed to a seat at the leadership table as chief deputy whip.
Now, he is House majority leader, second only to Speaker John Boehner. It is his job to navigate a fired-up majority caucus through tough votes on spending, cuts to popular entitlements such as Social Security and Medicare, and an increase in the national debt limit – a move that many GOP newcomers oppose. A misstep risks a government shutdown.
IN PICTURES: Will these Republicans run in 2012?
"The wave election that occurred in November was the result of the public repudiating an agenda that seemed out of touch to a majority of Americans," Mr. Cantor says in an interview with the Monitor. "Now we need to translate that experience into governing as a majority."
This week could be a key test for Cantor. The diverse Republican caucus is becoming restive over the prospect that the House will vote on yet another stop-gap spending measure to keep the government running, rather than on a final budget for the last six months of this fiscal year – and it is Cantor's job to lead the majority to hold ranks for the vote this week.
---