Next up for Wisconsin: the mother of all recall drives
After Wisconsin Gov. Scott Walker signed a bill to limit collective bargaining for many public unions, efforts are afoot to recall 16 state senators – eight from each party – by the summer.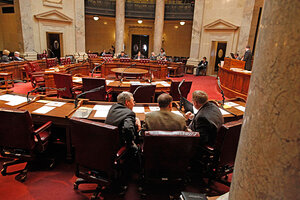 Jeffrey Phelps/AP/File
The partisan fight over collective-bargaining rights in Wisconsin is moving from the streets of Madison toward the ballot box.
A recall drive of unprecedented scale is underway, with 32 efforts targeting 16 state senators involved in the three-week budget standoff between Senate Republicans and Democrats. In the 103 years since Oregon first adopted the recall process, only 13 state legislators have been recalled nationwide.
The campaigns – against eight Republicans and eight Democrats – have been infused with money and energy from outside the state, making the movement "a national event" that could drive momentum for similar efforts in other states, says Joshua Spivak, an expert on recall history at the Hugh Carey Institute for Government Reform in New York.
Others agree that the Wisconsin recall drive is unique in American history. "In Wisconsin, nothing like this has ever happened; in terms of the US, nothing comes close to such a wholesale effort," says Greg Magarian, an election law expert at Washington University in St. Louis.
---