No Child Left Behind: Why Congress will struggle to hit Obama's deadline
President Obama wants No Child Left Behind revised by the fall. The Senate is working toward a bipartisan compromise, but House Republicans want to shrink the federal role in education.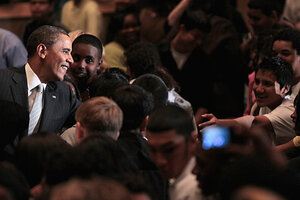 AP
President Obama's call to Congress to significantly revise the nation's top education law, No Child Left Behind, by the first day of the new school year faces tough headwinds on Capitol Hill, despite broad agreement on needed fixes.
Both Republicans and Democrats agree that NCLB's achievement standards are too rigid. The Department of Education estimates that, according to those standards, more than 80 percent of the national K-12 schools may be labeled as failing this year – up from 37 percent last year.
But Mr. Obama's plans to reform NCLB come to a Congress preoccupied by budget matters and to House Republicans eager to reduce federal influence in education. With the current year's budget still living week to week on stopgap funding measures – followed by battles over the fiscal year 2012 budget and a highly controversial measure to raise the national debt ceiling – an education deal on the president's timetable looks unlikely.
The Obama administration's proposed fixes include: improving standards and assessments, giving high-performing schools more flexibility and the lowest-performing schools more help, and recruiting better teachers and rewarding them for how effectively they improve student performance.
---