Californians side with Jerry Brown in epic budget battle, poll says
Republican lawmakers are blocking Gov. Jerry Brown's attempts to put a tax-rate extension before voters this summer. But a new Field Poll shows Californians back Brown's plan.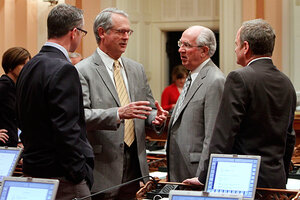 AP
California Gov. Jerry Brown received a boost today in his attempts to move forward on a key part of his budget plan.
The results of a new Field Poll amount to a rebuke of Republican state legislators who are blocking Governor Brown's bid to call a special election in June. Brown wants to put before voters his proposal to extend for five more years the one-cent increase in the state sales tax, the 0.5 percent increase in vehicle license fees, and the 0.25 percent increase in personal income taxes.
Some 58 percent of poll respondents said they supported Brown's plan; 39 percent said they were opposed to it.
The tax-rate extension is central to Brown's fiscal year 2012 budget, which seeks to address a $26 billion deficit. The taxes would account for $12.5 billion of the shortfall, and cuts set to go before the Legislature Wednesday would account for another $12 billion.
With time running short before a state budget deadline, Brown urgently needs four Republicans – two in the Assembly and two in the Senate – to back his plans. So far, he has won no converts.
---