Why House Republicans are rushing to slash NPR funding
House Republican cohesiveness splintered in a key vote earlier this week, but NPR funding – long a target for conservatives – is almost certain to restore a picture of GOP unity.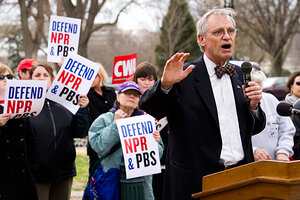 Scott J. Ferrell/Congressional Quarterly/Newscom
House GOP leaders are rushing a vote to ban all federal funding for NPR in an effort to reforge party unity a day after it splintered badly.
Fifty-four conservatives defected Tuesday to vote against a spending bill that would forestall a government shutdown for three weeks that they felt didn't go far enough to cut spending. But there is little chance of House Republican leaders losing votes in its bid to kill funding for NPR – the third such vote in weeks. The issue has been a rallying point among conservatives for decades.
Earlier this month, conservative activists released a video purporting to show NPR fundraiser Ron Schiller calling tea partyers "seriously racist" and saying that despite potential damage to smaller stations, "Frankly, it is very clear that we would be better off in the long run without federal funding." In the subsequent outcry, Mr. Schiller left NPR and the organization's president, Vivian Schiller (no relation) resigned. (The full video, subsequently released, shows that Mr. Schiller's comments were selectively edited.)
The scandal may have changed no votes, but it certainly intensified partisan attacks on NPR (formerly known as National Public Radio).
---