Congress sets new D-day for government shutdown: April 8
The Senate votes to fund the federal government through April 8. But the stalemate over 2011 spending remains, and no one wants to pass another short-term stopgap. Is the stage now set for a government shutdown next month?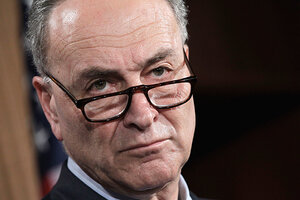 J. Scott Applewhite/AP/File
With a robust, bipartisan vote, the Senate passed a stopgap measure to fund government through April 8, amid signals that neither side will be willing to do it again.
But the path to coming up with a spending bill for the rest of fiscal year 2011 in the next three weeks is rocky, especially with President Obama not personally engaged in the negotiations, say lawmakers on both sides of the aisle. Indeed, Congress now appears primed for the battle of wills presaged by the midterm elections, with Senate Democrats flatly refusing to consider massive cuts and tea-party freshmen refusing to accept token trims.
Senate Democrats went so far as to say Thursday that a deal can't be done unless House Speaker John Boehner (R) of Ohio is willing to break with the tea-party faction in his own caucus.
"The Speaker has a choice: He can cater to the tea party and inevitably face a shutdown on April 8, or he can work with Democrats," said Sen. Charles Schumer (D) of New York in comments to reporters after Thursday's Senate vote. "There is a path forward, and it's not through the tea party."
Republicans and Democrats issue demands
---
Follow Stories Like This
Get the Monitor stories you care about delivered to your inbox.