Judge blocks Wisconsin collective-bargaining law
A county judge temporarily blocks the Wisconsin collective-bargaining law, pending further inquiry into whether the law was passed in accordance with the Legislature's rules.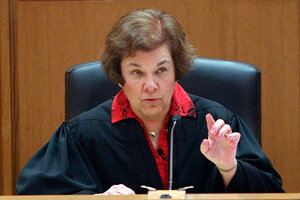 Mark Hoffman/AP
A county circuit court judge on Friday temporarily blocked the controversial Wisconsin collective-bargaining law from taking effect, extending for at least two weeks the saga that began when some Democratic lawmakers fled the state in protest against the bill a month ago.
At issue is the method Senate Republicans used to push through the bill, which eliminates collective-bargaining rights for all non-law-enforcement state workers. In a complaint, Dane County District Attorney Ismael Ozanne said the senators violated legislative rules by forming a special committee, stripping the collective-bargaining bill of its fiscal obligations, and then passing it – all in the same day.
Mr. Ozanne said the senators needed to give 24 hours notice about the meeting in accordance with state open-meetings law. The senators have responded that because this was during a special session of the Legislature, they were exempt from the 24-hour requirement.
Dane County Judge Maryann Sumi granted the restraining order requested by Ozanne, saying that time was needed to review the manner in which the law was passed. "It's not a minor detail … the open meetings law exists to ensure open government in controversial matters," she said.
The next hearing on the case is March 29, four days after the bill was scheduled for publication by the secretary of state.
In her ruling Friday, Judge Sumi appeared to endorse Ozanne's complaint. "It seems to me the public policy behind effective enforcement of the open meeting law is so strong that it does outweigh the interest, at least at this time … of sustaining the validity of the [bill]," she said.
---