Former Secretary of State Warren Christopher passes at 85
Christopher served as Secretary of State during Bill Clinton's first term and was an architect of the 1995 Bosnian peace accords.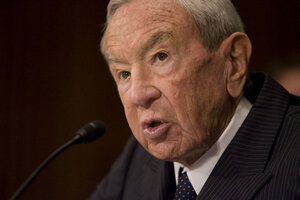 AP/File
When he took over as secretary of state in the Clinton administration at age 68, Warren M. Christopher said he didn't expect to travel much. He went on to set a four-year mark for miles traveled by America's top diplomat.
The attorney turned envoy tirelessly traveled to Bosnia and the Middle East on peace missions during his 1993-1996 tenure — including some two dozen to Syria alone in a futile effort to promote a settlement with Israel.
After his work finished carrying out the Clinton administration agenda abroad, the longtime Californian returned home for an active life in local and national affairs and with his law firm.
Late Friday, the 85-year-old statesman died at his home in Los Angeles of complications from bladder and kidney cancer, said Sonja Steptoe of the law firm O'Melveny & Myers, where Christopher was a senior partner.
As he prepared to step down in 1996 as secretary "for someone else to pick up the baton," he said in an interview he was pleased to have played a role in making the United States safer.
---