Immigration reform: Glimpse of the future in Arizona and Utah?
The business community was instrumental in defeating an Arizona birthright-citizenship bill and passing a Utah guest-worker program, suggesting it could be a key force on immigration reform.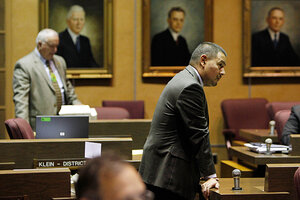 AP
The opposite fortunes of two sets of immigration bills this week – one in Arizona and the other in Utah – suggest that the business community can play a potentially crucial role in shaping immigration legislation in states nationwide.
In Arizona, its opposition to five anti-illegal immigration bills, including a high-profile attempt to deny children of illegal immigrants birthright citizenship, played a pivotal role in turning several Republican state senators against the bills, which failed Thursday.
Meanwhile in Utah, business groups backed a suite of bills that included a measure to offer two-year work permits to undocumented immigrants under certain conditions and another to recruit guest workers from Mexico. The bills were signed into law Tuesday.
At a time when the Republican Party has taken an increasingly strident position against illegal immigration, the two votes – both in Republican-dominated states – suggest that the path to compromise on the issue might be through the business community, which often has strong ties to GOP lawmakers.
---