Poll: California voters approve of Jerry Brown, not the Legislature
A new poll suggests California voters approve of the job that Gov. Jerry Brown is doing by a 2-to-1 margin – albeit with many undecided. Their view of the Legislature is poor.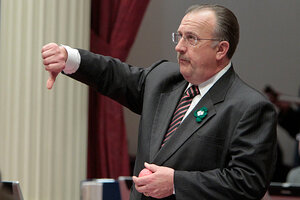 AP
With California Gov. Jerry Brown and legislative Republicans locked in a battle of wills over the budget, a new poll suggests that California voters are much happier with the job Governor Brown is doing than they are with the Legislature.
Brown's job performance is winning the approval of California voters by a more than 2-to-1 margin – 48 to 21 percent, with 31 percent of respondents having no opinion. At the same time, state legislators continue to receive abysmal marks, with 16 percent of respondents holding a favorable opinion and 70 percent disapproving.
While some experts note that Brown's approval rating is below 50 percent, others say the poll comes at an opportune time for Brown. Two influential chambers of commerce have backed Brown's bid to hold a special election this summer on extending certain tax rates – a move that Republicans are blocking. Moreover, a new election law in California could help blunt any backlash against Republicans who defect to Brown's side.
In that light, the poll could increase pressure on Republicans in the legislature – something Brown is already trying to exploit.
"It could help him at least get the ear of some of these legislators," says Sherry Jeffe, a political scientist at the School of Policy, Planning, and Development at the University of Southern California. "It shows voters might be more likely to listen to Brown than them."
---