State illegal immigration laws: What have they accomplished?
Five years into a legislative surge, state illegal immigration laws have yielded few arrests. But they have stirred a populist backlash, say immigrant rights groups.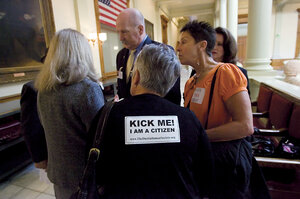 John Amis/AP
The wave of immigration laws that has swept through states since 2006 shows few signs of letting up, with state legislators expected to introduce about 1,400 bills this year. Yet five years into this legislative surge, the toughest laws have not recast immigration in the ways that legislators might have intended.
From an enforcement standpoint, the impact of state anti-immigration laws like Arizona's controversial SB 1070 "is almost negligible," says Veronica Dahlberg, an immigrants' rights activist.
The far greater impact has been social, Hispanic groups say. Laws targeting illegal immigrants have reflected and even intensified the rising anti-immigration movement, both in statehouses and on the streets. The result is a legislative record from Arizona to Florida that hasn't made much of a mark on illegal immigration, but has fueled a populist backlash against it.
This is "particularly true in some places, because there's been very rapid growth in immigrant populations," says Marc Rosenblum, a senior analyst at the Migration Policy Institute.
The trend was sparked by a dramatic uptick in illegal immigration in the decade before 2006. Roughly half of all unauthorized immigrants now in the country – some 6 million in all – came to the United States during that period.
---