Wisconsin union-gutting law took effect Saturday – or did it?
In a now-familiar scene, thousands of union supporters gathered in Madison, Wisconsin, Saturday to protest – this time against Republicans publishing an anti-union law despite a restraining order. So, have unions officially lost collective bargaining power or not?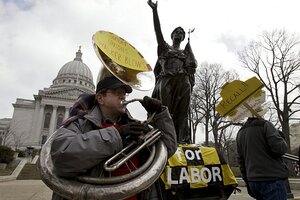 Andy Manis/AP
Wisconsin Republicans insist that the state's new union-gutting law, passed along partisan lines against a sea of street protest from union workers and Democrats, took effect today. Not everyone, however, is so certain that the law is on the books, including thousands of activists who once again descended on the capitol in Madison to protest.
A March 18 court restraining order, Republicans said, didn't make mention of the Legislative Reference Bureau (LRB), which is responsible for publishing laws in order to make them official. Therefore, they contend, Wisconsin's 53-year history of encouraging public unions ended officially on Saturday, 24 hours after the LRB posted the controversial anti-union law online.
"It's published, it's law," Senate Majority Leader Scott Fitzgerald said.
IN PICTURES: Wisconsin protest signs
"The administration will carry out the law as required," said Gov. Scott Walker (R) in a short statement.
Democrats contend that the bill can't become law until the Secretary of State takes action and the entire law is published in the state newspaper, the Wisconsin State Journal – neither of which has happened.
The March 18 restraining order was placed on the law after Democrats challenged it in court, saying Republicans violated open meeting laws when they quickly passed the law after separating the anti-collective bargaining measure from a broader budget bill, which required a super-quorum to bring to a vote. Fourteen Wisconsin lawmakers left the state in order to hold up the broader budget bill.
The law bans collective bargaining for benefits and pensions, but allows unionized government workers to bargain as a union for their pay, as long as pay raises don't exceed inflation.
---