Obama: Libya mission necessary to protect 'common humanity'
President Obama says US military involvement in Libya prevented a massacre of civilians. He suggests that military action will remain limited and is not about regime change.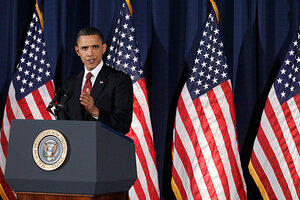 Manuel Balce Ceneta/AP
In a nationally televised address Monday evening, President Obama defended the US's role in military operations in Libya, calling it limited yet successful. And he asserted that the US was acting in its national interest.
The president also announced that command of the operation, aimed at protecting Libyan civilians amid a popular uprising against the rule of Muammar Qaddafi, would finish a transfer from US to NATO hands on Wednesday. Recapping events to date, Mr. Obama said that the US-led coalition had struck regime forces in Benghazi, saving the city and its people; hit Colonel Qaddafi's air defenses, paving the way for a no-fly zone; and cut off much of the regime's source of supply.
"Tonight, I can report that we have stopped Qaddafi's deadly advance," Obama said.
Obama made clear that he was aware of the criticism that has rained on his head since the first US cruise missile struck Libya on March 19, following a UN Security Council resolution two days earlier that authorized "all necessary measures" except an occupation force to protect Libyan civilians. He attempted to frame his approach as a middle option – not hands off but also not doing "whatever it takes" to bring down Qaddafi and usher in a new government.
---