How big GOP 2012 field could boil down to three
Three top-tier GOP presidential hopefuls are likely to emerge, and neither Sarah Palin nor Donald Trump are among them.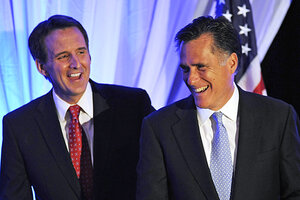 Craig Lassig/AP/File
Flip through any list of Republicans running for president or probably running or maybe thinking of running, and you'll find at least a couple dozen names. From Mitt Romney and Tim Pawlenty to Michele Bachmann, Rudy Giuliani, and Donald Trump, it's a potentially vast field peppered with outsize personalities and also folks who make you say, "who?"
Why so many?
"Because people perceive vulnerability in President Obama," says Darrell West, a political analyst at the Brookings Institution. "We have high unemployment, we have 2-1/2 wars, and there's a lot of contentiousness surrounding health care. So nobody's afraid to take on a sitting president."
RELATED: Is Obama unbeatable in the 2012 presidential election?
By the time the Iowa caucuses roll around early next year, the GOP could easily field 10 to 12 candidates. The latest to say "I'm in" is Congresswoman Bachmann of Minnesota, a tea party firebrand and born-again Christian who could shake up the race by doing well in her native Iowa. She stole the show at last weekend's Conservative Principles Conference in Iowa.
---