In energy speech, Obama exchanges the ambitious for the politically possible
President Obama called Wednesday for a one-third cut in oil imports, to be achieved by increased domestic production, alternative energies, and higher fuel efficiency.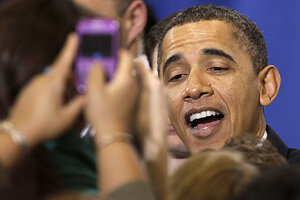 Carolyn Kaster / AP
Amid multiple pressures on US energy security, President Obama set a goal Wednesday of reducing oil imports by one-third in the next decade.
Mr. Obama, speaking at Georgetown University, set out a multi-pronged approach to reaching that goal: finding and producing more oil in the United States, boosting fuel efficiency, and turning to cleaner alternative fuels. And while he is not as open to domestic oil drilling as some Republicans would like, he did try to reposition himself as a drilling-friendly president, even as he pushed for more electric cars, more use of natural gas and biofuels, and higher fuel efficiency standards.
The president stressed that nuclear energy will remain an important source of electricity in the US, even as Japan grapples with a crisis at a nuclear reactor complex.
He also called for an end to the nation's decades-long pattern of "shock and trance" over energy – shock when oil prices spike, followed by trance when prices go down.
"We can't rush to propose action when gas prices are high and then hit the snooze button when they fall again," Obama said. "The United States of America cannot afford to bet our long-term prosperity – our long-term security – on a resource that will eventually run out, and even before it runs out will get more and more expensive to extract from the ground."
As gas prices rise above $4 a gallon in more states and Mideast turmoil sows uncertainty in oil markets, Obama sought to get ahead of the growing political and economic pressures over energy. Gone is the "cap and trade" policy of his first two years in office, which would have put a price on carbon dioxide emissions had the proposal become law. Now, with Republicans in control of the House, Obama is highlighting measures that are already in the works, or, if action is needed for implementation, either the executive branch can do itself or already has bipartisan support in Congress. He called it a "Blueprint for a Secure Energy Future."
---