New polls make tea party leaders ask: Are we in trouble?
Almost half of all Americans – 47 percent – have an unfavorable view of the tea party movement, almost twice as many as 15 months ago.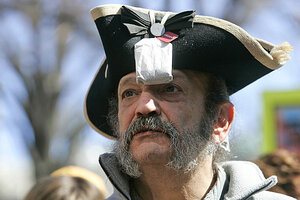 Steve Helber / AP
A CNN/Opinion Research Corporation poll out Wednesday shows the tea party movement at a high point of unpopularity. The survey found 47 percent of Americans have an unfavorable opinion of the small-government, anti-tax movement – a 21-point rise in unfavorability since January 2010. Other polls, including one by the Washington Post, show similar results.
Most of the newly negative attitudes seem to have come from those who had either never heard of the tea party or had no opinion of it, 15 months ago. The tea party's favorability is at 32 percent, down from 38 percent last November but roughly the same as in January 2010.
Before opponents of the tea party start celebrating, they should note that those unfavorability numbers are now on a par with those of both the Democratic and Republican parties, according to CNN.
But some conservative commentators have begun to wonder if the tea party movement is fading. "Has the wind gone out of the sails of the smaller-government movement?" asks Michael Barone, senior political analyst for The Examiner. He notes the low poll ratings of newly-elected Republican governors who have cut spending and crossed public unions.
And at least one tea party leader, Judson Phillips, founder of Tea Party Nation, is asking, "Is the tea party over?" That was the title of his blog post at the group's web site Wednesday. He cites multiple reasons why the movement "may be down for now." One is that it's a political lull season. Another is fatigue.
---