California budget deal collapse: Did state GOP blow a huge opportunity?
Gov. Jerry Brown needed four GOP votes to advance his California budget plan. The fact that talks failed without Republicans winning any concessions may come back to bite them.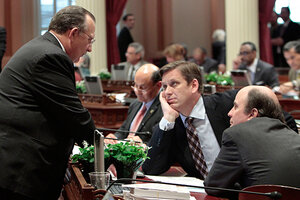 AP
When California Gov. Jerry Brown (D) declared state budget talks dead Wednesday, several political analysts suggested that there might be another casualty: the state Republican Party.
The reason? It missed a huge opportunity to forward key policies that have been shoved aside during the past 10 years with Democrats in control. Among them: rolling back government employee pensions, diminishing regulations on business, and limiting the growth of government – all issues on which Governor Brown signaled a willingness to compromise.
The price was just four Republican votes that Brown needed to place a tax-extension plan before voters in a June special election. Brown's need for those votes gave Republicans unusual leverage that they may have squandered, analysts say.
"For this deal to have fallen through over something as small as just offering a referendum to let voters decide strikes me as big mistake," says Craig Wheeland a political scientist at the St. Augustine Center for the Liberal Arts at Villanova University in Pennsylvania. "For a party in a minority situation in both state chambers to not take the opportunity to get something big that they valued in the past is really surprising."
---