Congress gives first inklings of compromise in budget stalemate
In several subtle ways, congressional leaders gave signs Thursday that they were moving toward a compromise on federal spending to avoid a government shutdown April 8.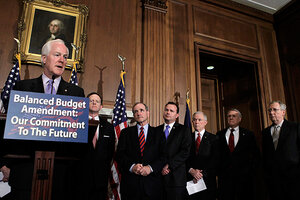 J. Scott Applewhite/AP
House and Senate leaders are closing in on common ground to avert a government shutdown next week, though the shifts are subtle and Congress remains far from declaring mission accomplished.
Without a deal on spending for the current fiscal year, the government shuts down after April 8.
Among the signs that the two sides are moving toward compromise:
• For the first time, Senate Democrats are publicly endorsing a target of $33 billion in spending cuts for the fiscal year 2011 spending bill that is now six months overdue. Previously, they had not endorsed any number remotely close to Republican demands. As recently as February, Senate majority leader Harry Reid had dubbed a GOP plan proposing $32 billion in cuts "draconian" and "unworkable." Democrats had proposed no net cuts from 2010 spending levels.
• In a shift, House Speaker John Boehner acknowledged a point that Democrats have been making for months: that the House can't impose its will on the Senate or the other branches of government. "We control one-half of one-third of the government here, but we're going to continue to fight for the largest spending cuts that we can get to keep the government open and funded through the balance of this fiscal year," he said.
• Senate Republicans unanimously backed a measure to establish a balanced-budget amendment – a sign that they could be looking to claim longer-term victories in exchange for short-term compromise on the current spending bill.
"We are in a much better place than we were two weeks ago," said Sen. Charles Schumer (D) of New York in a speech on the floor on Thursday. "The two sides are much closer than you might be able to tell from the public statements."
---