Tea party faithful rally in the rain. Their message to Congress: Get tough.
Tea party supporters from around the country demanded Republicans keep their promise to cut the budget. Democrats and 'liberals' were the target of their ire, but the GOP leadership wasn't spared.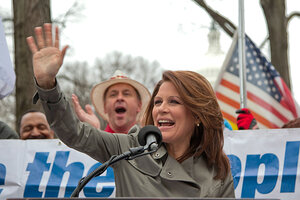 Evan Vucci/AP
It was a chilly, drizzly day in the middle of the week, but tea party activists still turned out a couple of hundred supporters Thursday at a rally near the Capitol.
They came from around the country to send a message to Congress: Cut spending – a lot. "Keep your promise: $100 billion," read one protester's sign, referring to a 2010 Republican campaign pledge to reduce government spending by $100 billion.
Inside the Capitol, negotiations continued toward a budget deal that, thus far, looked to be coming in well below that figure. If agreement cannot be reached by April 8, the government will shut down.
Speaker after speaker depicted the Democrats – especially Senate Majority Leader Harry Reid – as the bad guys. But there were also shots across the bow of the House Republican leadership, which appears more interested in compromising than in risking blame for a shutdown.
"I say to the Republican leadership, take off your lace panties," said Kathy Dirr of the Tea Party Patriots. "Stop being noodle-backs. Take a strong, bold, unwavering stand for and with the American people."
---