Government shutdown: How might this time be different from 1995?
Democrats and Republicans are facing a government shutdown deadline of April 8. Although Republicans were penalized in public opinion during a 1995 government shutdown, this time it's less clear how a blame game would play out.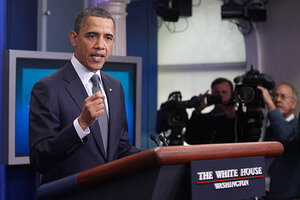 Charles Dharapak/AP
The threat of a government shutdown deadline looming Friday carries high political stakes: It's not just a question of which party might be blamed for gridlock, but of which party can frame the budget debate in a way that carries public support.
Are deep spending cuts the path to a stronger economy and a sounder government? If the public sides with that view, then Republicans may come out as winners, whether or not a temporary shutdown occurs.
Are tea-party Republicans seeking to gut popular programs like Medicare in order to achieve their goal of smaller government? If the public comes down on this side, then Democrats may stand to win.
At this point, with just a few days to go before Congress's temporary funding for the federal government runs out, what's clearest is that the public would like to see a compromise and no shutdown. But in a high-stakes debate with implications for the future shape of government, neither major party wants to be perceived as simply caving in to the other.
In one new poll, the Pew Research Center found 39 percent of US adults would see Republicans as more to blame than the Obama administration if a shutdown occurs, up from 36 percent in late February. Some 36 percent say they would place more blame with the Obama administration, up from 35 percent in February.
To some extent, all this may feel like familiar political territory.
---