Fuzzy government shutdown math: Are cuts worth $33 billion or $73 billion?
Democrats say they're close to a compromise deal to avoid a government shutdown that includes $73 billion in cuts. Republicans say the plan cuts only $33 billion, and it's not enough.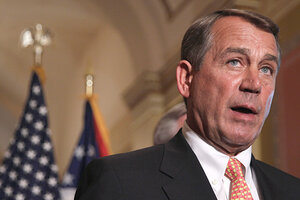 Carolyn Kaster/AP
As if the Washington politics of a potential government shutdown isn't confusing enough, now Congress is throwing a healthy helping of math at the American people – and it's all rather fuzzy.
President Obama says Democrats have agreed to $73 billion in spending cuts for the remainder of the 2011 fiscal year, and that this is the same target Republicans have set.
Republican House Speaker John Boehner says the Democrats are calling for $33 billion in cuts, and that his party hasn't agreed to that or any other number.
And what about the whole Republican "Pledge to America" during the election campaign to cut $100 billion from spending this fiscal year?
What do any of these numbers mean for the attempt to avoid a government shutdown Friday?
First off, the two numbers being bandied about in Washington this week – $33 billion and $73 billion – are really the exact same number, but reached through different accounting methods.
The spending plan being touted by Democrats would be $73 billion lower than what Mr. Obama had forwarded in his 2011 budget proposal, which was never passed by Congress. Looked at another way, it is $33 billion lower than current spending levels.
---