Budget stalemate: Why America won't raise taxes
Budget stalemate has many on Capitol Hill crunching numbers. With any new budget, taxes may be the real third rail of politics. Can the U.S. solve its fiscal woes without more revenue?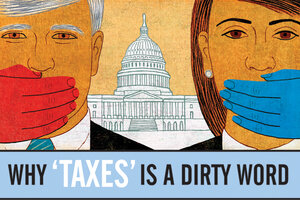 James Steinberg/John Kehe illustration
It was a secret meeting in a city that doesn't keep secrets well, so the congressional and administrative officials agreed to gather at Andrews Air Force Base in Maryland, away from the glare of the media and anyone who might leak information. Over a series of mind-numbing days, during an intense heat wave, the principals crunched numbers and jockeyed for political advantage. The goal: taming the ballooning budget deficits of the Reagan era.
In the end, Democratic leaders in Congress and aides to President George H.W. Bush both ceded ground. Democrats would accept some cuts in entitlements, while the president would break his famous "read my lips" promise – and raise taxes. President Bush announced the plan from the Rose Garden: It would cut $119 billion from entitlements and $182 billion from discretionary programs while raising tax revenues by $134 billion, mostly through an increase in gasoline taxes.
But the package hit an unexpected roadblock. House conservatives – led by Newt Gingrich, whom Bush had believed to be an ally – revolted, joining with liberal House Democrats to block the plan. For Bush, it was "the most unpleasant, or tension filled" week of his presidency.
"I hate the posturing on both sides," Bush recorded in his diary. "[People] putting their own selves ahead of the overall good."
---