Government shutdown 101: What would a shutdown mean for you?
If the budget impasse causes the government to shut down after Friday, many ordinary Americans would feel it. Some services deemed 'essential,' though, would continue amid a government shutdown.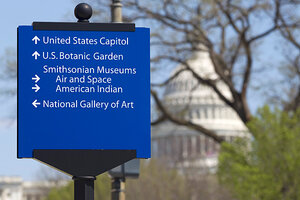 Evan Vucci/AP
The phrase "government shutdown" sounds serious, and it is. If congressional leaders and President Obama can't reach a budget deal soon for the remainder of the 2011 fiscal year, many federal operations could grind to a halt.
But it wouldn't be a total shutdown of the government. Many services – from Social Security checks to national defense – would continue largely uninterrupted.
As the clock ticks down, with Congress's current funding resolution running out at midnight on April 8, here's a guide to what the shutdown might mean for ordinary Americans.
First, an important caveat: Much about a shutdown remains uncertain. "A lot of information [about the shutdown] just doesn't exist yet," at least in the public domain, warns Roberton Williams, an expert on federal finances at the Tax Policy Center, an independent research group in Washington.
Agencies have been drawing up plans regarding which of their activities will be deemed "essential" and continue to function, even with a lapse in funding authority. The full details would emerge as a shutdown actually happens. And the consequences could deepen the longer a shutdown lasts.
Despite these uncertainties, some things appear clear based on what has happened during past shutdowns, and what some government officials have already said.
---