Government shutdown 101: Will Social Security and Medicare be affected?
Social Security and Medicare aren't funded by the spending bill tied up in the government-shutdown showdown, meaning that they would be affected only at the margins.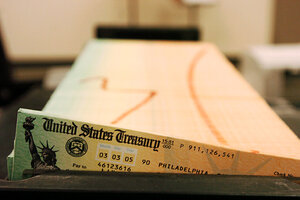 Bradley C. Bower/AP/File
A true shutdown of the federal government could be a worrying moment for seniors, who would face the prospect of a sudden disapearance of Social Security income and Medicare coverage.
Thankfully, that's not what would occur, even if a budget deadlock causes a so-called "government shutdown" to begin at midnight on April 8.
Politicians, after all, know that retirees are counting on Social Security and Medicare. And, oh yes, they vote.
These programs are viewed as essential services that would continue to make payments even as many other federal operations halt. And unlike typical federal programs, these mandatory entitlements have their own streams of revenue from payroll taxes, which require no congressional vote to authorize.
Still, even as these high-priority programs continue to make payments for beneficiaries, a shutdown might force them to pare back on staffing levels. That could mean that some phones go unanswered, and that new enrollees face delays in getting benefits launched.
Assurance, with exceptions
Federal agencies have been tight-lipped about their specific emergency plans if House Republicans, Senate Democrats, and President Obama can't reach a deal to fund the government for the rest of fiscal year 2011, which ends Sept. 30.
---