How Speaker Boehner brought a recalcitrant tea party to the budget deal
The budget deal marks the debut of an 87-member GOP freshman class committed to deep spending cuts. Speaker John Boehner defied his critics to rally his caucus and produce an agreement, without shutting down government.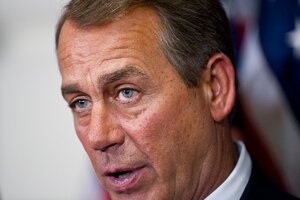 Newscom
Nearly half an hour after a midnight deadline expired, Congress passed a stop-gap measure to fund the federal government through Thursday, avoiding a government shutdown and paving the way for historic spending cuts.

The bipartisan agreement knocks $78.5 billion off President Obama's FY 2011 budget request and cuts current levels of spending by $37.7 billion – a reversal of historic trends. It also includes some controversial policy riders demanded by House Republicans, including a ban on the use of local tax dollars in the District of Columbia to fund abortions and reestablishing a DC school voucher program that helps low-income students attend private schools.

"Some of the cuts we agreed to will be painful," said President Obama, speaking from the White House Friday night. "Programs people rely on will be cut back. Needed infrastructure projects will be delayed. And I would not have made these cuts in better circumstances…. We protected the investments we need to win the future."

The deal marks the debut in Washington of an 87-member GOP freshman class committed to deep spending cuts – and a test of whether Speaker John Boehner (R) of Ohio could manage the new GOP majority without grinding government to a halt.

The strain of negotiations showed on the faces of House and Senate leaders and staff, who worked through differences that seemed insurmountable.
---