Vote count 'human error' shadows Wisconsin Supreme Court election
A county clerk discovered 14,000 unrecorded votes, which just happened to turn the election for the man she once worked for. "Human error," as she claims, or something more nefarious?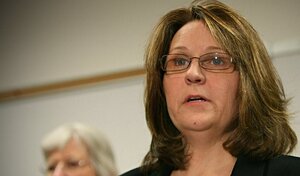 Michael Sears/Milwaukee Journal-Sentinel/AP
Questions are being raised in Wisconsin regarding the party ties of a local county clerk whose discovery of about 14,000 unrecorded votes is assuring a victory for the Republican incumbent in last week's election for state Supreme Court. A federal investigation into the matter was requested late Friday night.
Waukesha County Clerk Kathy Nickolaus became the center of the controversy Thursday when she announced she failed to record the votes of Brookfield, a city located outside Milwaukee that typically leans Republican.
Her actions turned the tables of the election, which was being tracked as an informal referendum on the policies of Gov. Scott Walker (R).
IN PICTURES: Wisconsin protest signs
For nearly two months, Wisconsin has been in the national spotlight regarding a bill Gov. Walker introduced that erodes union power in the state.
Late last month, a circuit court judge issued a temporary restraining order barring the bill from becoming law, saying more time was needed to review the procedure Senate Republicans took to push the bill through in order to make it law.
The Walker administration says the legality of its actions is sound and has moved forward in adopting the law.
---