Jerry Brown's first 100 days: 'If he can't make it, where else can we turn?'
Gov. Jerry Brown's budget-balancing efforts over the past 100 days have received praise from citizens and pundits, but he has failed to get Republican support for tax extensions.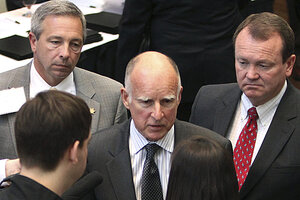 Rich Pedroncelli / AP
Despite his troubles – including a $26.4 billion deficit still only half-plugged – Gov. Jerry Brown (D) of California has gotten mostly good marks from polls and political analysts on his first 100 days in office.
His administration has focused almost entirely on balancing the California budget, which Governor Brown has tried to do through spending cuts and a tax extension that has found no Republican support – yet.
"Appraising Jerry Brown's first 100 days is like appraising the first lap of the Indy 500. He's moving as fast as he can, and he hasn't crashed yet. But it's too early to tell if he'll be successful in the end," says Jack Pitney, professor of government at Claremont McKenna College in Claremont, Calif.
Recent polls show positive approval ratings from Californians. An April 7 poll found that 49 percent approve of his performance as governor, with 42 percent disapproving. The California Field Poll, released two weeks before, had a similar approval rating (48 percent) but much lower disapproval rate (21 percent).
Republican voters, not surprisingly, are not so enamored of Governor Brown. The Field Poll shows that only 25 percent approve and 35 percent disapprove of his job performance.
---