Obama speech: His four-part plan to cut $4 trillion from federal deficits
Obama's plan to cut federal deficits over the next 12 years relies on tax increases for the wealthy as well as budget cuts. But he rejects Republican plans for reforming Medicare.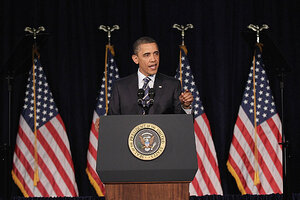 Pablo Martinez Monsivais/AP
President Obama laid out a broad plan Wednesday to address soaring budget deficits through tax increases and entitlement reforms.
In a speech at George Washington University, Mr. Obama set a goal of reducing the cumulative annual deficits of the next 12 years by $4 trillion. That benchmark far outstrips the $1.1 trillion reduction in deficits over 10 years that he laid out two months ago in his fiscal year 2012 budget – a point that feeds the Republican charge that Wednesday's initiative represents a presidential budget "do-over."
Still, Obama's new plan is slightly less ambitious than the proposal of his bipartisan fiscal commission released last December, which would reduce deficits by $4 trillion in 10 years. And it is much less ambitious than last week's GOP budget proposal, which the author, Rep. Paul Ryan (R) of Wisconsin, says would lower deficits by $5.8 trillion in the next decade, all through spending cuts.
Obama's plan calls for a tax increase on the wealthy, a provision he failed to enact last December in his tax deal with the Republicans, plus other revenue increases achieved through tax reform.
---