After budget battle Act 1, will Obama, Reid, Boehner have an Act 2?
Looming debt-ceiling talks may be a bigger hurdle for the three negotiators than the hard-fought deal on the 2011 budget. As for a deficit-cutting plan? Obama and Boehner are starting far apart.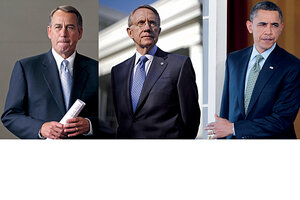 From Left: AP, Reuters, AP
The face-to-face budget negotiations of three men – President Obama, Speaker John Boehner (R) of Ohio, and Senate majority leader Harry Reid (D) of Nevada – marked a rare plunge into bipartisan dealmaking in a Capitol addicted to partisan gridlock. Their engagement – and that of key aides, working nearly 24/7 – narrowly averted a government shutdown over the fiscal year 2011 budget.
The trillion-dollar question now is whether that hard labor has forged a working relationship that the three leaders can build on to tackle even bigger fiscal issues that lie ahead. Or not.
One hurdle may be that Democrats and Republicans emerge from Round 1 with different expectations for next steps. "There's nothing inevitable about this [first budget] deal," says Julian Zelizer, a congressional historian at Princeton University in New Jersey. "For Republicans, it's a precedent to cut more. For Mr. Obama, it's a precedent to think about something else besides spending cuts."
---