In the end, did huge Gulf oil spill underwhelm oil-hungry Americans?
Predictions of 'Obama's Katrina,' millions of fish belly up on beaches, and an end to deep-water drilling all came to naught. High gasoline prices now seem more pressing to Americans than the Deepwater Horizon disaster that led to Gulf oil spill.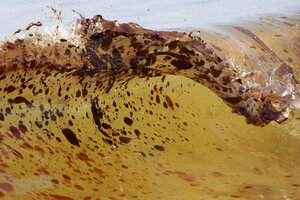 Dave Martin/AP
In the aftermath of the Deepwater Horizon oil spill, Republican wit Peggy Noonan wrote that President Obama stood only a slim chance of recovering politically from his handling of the national emergency. Ecologists fretted that millions of fish would wash up, tourism would flop for years, and the Gulf's sensitive ecosystem would finally be overwhelmed after decades of abuse.
Others suggested that BP would go bankrupt or be broken up. Deepwater drilling would never be the same and might be abandoned in the Gulf altogether, prognosticators said, driven out by government moratoriums or liability fears.
Few of these dire predictions have come to bear.
Yes, the Deepwater Horizon disaster, which killed 11 and spilled 200 million gallons of oil into the Gulf for 85 days, was by the numbers the largest – and perhaps most agonizing – maritime oil spill in US history, 19 times bigger than the 1989 Exxon Valdez spill in Alaska. But the Gulf itself appears to have mostly recovered, scoring a 69 out of 100 on an ecological report card by Texas A&M University ecologist Wes Tunnell, just 1 point lower than before the spill. This week, the US lifted the remaining fishing restrictions, and though some fin fish stocks have taken a beating, shrimp, by many accounts, is plentiful, as are crabs, evidently helped by the pause in commercial fishing more than hurt by the oil.
---