Easter Sunday: Where did Obama go to church?
Religion has been a tough issue for President Obama. Many question his Christianity, and some believe he's a Muslim. In speeches, White House prayer events, and attending church, he's trying to change that.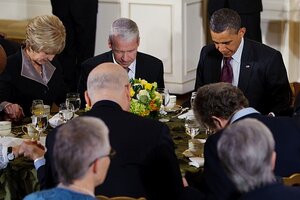 Newscom
On a bright Easter morning in Washington, President Obama and his family attended the Shiloh Baptist Church. Greeted by applause and a choir singing "Total Praise," the first family couldn't help but stand out in the second row pew no matter how much they might have wanted their worship to be intimate and without the trappings of the presidency.
"The Secret Service said, just be ourselves," the church's pastor, Dr. Wallace Charles Smith, told the congregation, according to the Associated Press. "This is a place of worship," Dr. Smith added as he asked people not to take photographs. Obama declined an invitation to speak.
But in a job where the personal is always political, Obama's presence at a church founded by freed slaves nearly 150 years ago was also a statement to those who question his Christian faith.
It's not been an easy issue for Obama.
A large minority of Americans (growing in recent years to nearly 20 percent) say they think he is Muslim, the religion of the Kenyan father he barely knew. He had to distance himself from the Rev. Jeremiah Wright, the controversial minister who had been Obama's pastor in Chicago for years.
---