Illinois leading states facing a pension crisis
In a crisis that built up over years of paying in too little, Illinois's pensions were only half-funded by 2009, according to a new report. They're the worst offender, but they're not alone.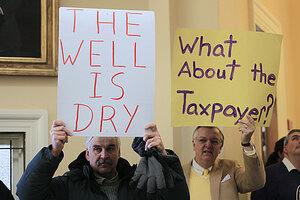 Robert F. Bukaty / AP / File
State pensions are badly underfunded – and the situation is getting worse, fast.
That's the upshot of a study released this week by the Pew Center on the States, a nonprofit, public-policy think tank located in Washington.
In 2009, 31 states were underfunding their pensions. The year before, 22 states were in the same boat, according to the report, which tracked retirement benefits of state employees over the last two years.
The divide between the amount states owe and the money they've set aside over the decades yawns even wider than previously suspected: Nationwide, state pensions were underfunded by $600 billion in 2009. That accounts for about half of the $1.26 trillion gap in overall retirement benefits owed to public employees that year.
Don't blame the economy
The struggling economy can no longer serve as a convenient scapegoat to mask decades of insufficient planning, says Kil Huh, director of research at Pew. States were "kicking the can down the road in good times as well as bad" when it came to their legally-bound retirement obligations, he says.
"Some research suggests the great recession was the main culprit … but by looking at trends over time, we found that the recession made a bad problem worse," he says.
The worst offenders
Illinois ranks the worst, having set aside only half – 51 percent – of what it needed to for pensions in 2009. Just behind was West Virginia, at 56 percent.
In December 2009, the Illinois Commission on Government Forecasting and Accountability estimated that the amount of unfunded liabilities stood at $77.8 billion.
Illinois legislators developed a pattern of "habitual underfunding that magnified over the years" regarding its pensions, says J. Fred Giertz, who teaches economics at the University of Illinois at Urbana-Champaign and who is an elected member of the State Universities Retirement System Board of Trustees.
---