Why 2012 presidential election will be harder for Obama
As the incumbent, Obama is burdened by three wars and the economy. He's taking nothing for granted for the 2012 presidential election, and is planning victory scenarios that don't involve taking every state he won last time.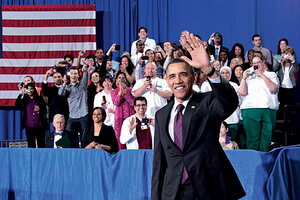 Pablo Martinez Monsivais/AP
Will funding for education be cut? Will Social Security still be around in 25 years? How can America afford to develop clean energy?
It's no accident that President Obama faced questions like these from voters last week, and it's no accident that the town-hall meeting was held at a community college in Virginia. The stated purpose of the gathering was to promote Mr. Obama's message on deficit reduction ahead of battles with congressional Republicans. But 18 months before Election Day 2012, Obama is also well into campaign mode in his quest for reelection.
Virginia is a key battleground state, and Northern Virginia Community College is full of young people – a cohort he will need to turn out for him again. It also has plenty of not-so-young students – people training for second careers and striving to maintain or earn a spot in the middle class.
Obama's other town-hall meetings during the week of April 18, in California and Nevada, also smacked of campaigning. Nevada is another swing state. And while California is solidly Democratic, it's a gold mine for fundraisers; he did six during this trip alone. In Silicon Valley, Obama visited Facebook headquarters and did an online town-hall meeting – more outreach to the under-30 crowd.
---