How Leon Panetta could change Washington as next Defense secretary
Leon Panetta, currently CIA director, is a close ally of Vice President Biden. But political realities could prevent him from adopting Mr. Biden's stance on US troops in Afghanistan.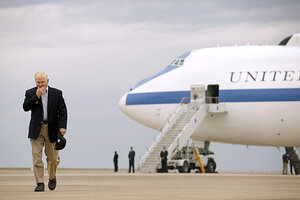 Chip Somodevilla/AP
Among President Obama's greatest national security challenges has been deciding who will replace Defense Secretary Robert Gates, as the widely popular Pentagon chief prepares to leave his post this summer.
Coming to that decision has involved a delicate confluence of considerations. Who is suitably steeped in defense policy matters? Who will have credibility both with the White House and within the halls of the Pentagon? And equally important, how will a new Defense secretary affect the balance of power within Mr. Obama's cabinet?
The withdrawal of US troops from Afghanistan, scheduled to begin this summer, has no doubt factored into the deliberations about a defense chief. That official, and the entire national security team, will also have to grapple with the continued US presence in Iraq, the nuclear ambitions of Iran, and something closer to home: the difficult decisions that the Pentagon leader will have to make about the defense budget.
The White House has confirmed that on Thursday Obama will name Leon Panetta, currently director of the Central Intelligence Agency, as the next Defense secretary. And Gen. David Petraeus, now the top US commander in Afghanistan, will take Mr. Panetta's place at the CIA.
---