With response to tornadoes, FEMA begins to rebuild its reputation
New FEMA chief retooled the agency after its subpar response to Katrina, and it shows in response to recent tornadoes. He sees FEMA in a supporting, not leading, role.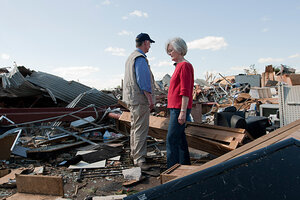 Dave Martin/AP
The designation of the Alabama tornadoes as a Category 1 disaster – the ranking given to 9/11 and hurricane Katrina – has put FEMA and its new director to the test.
Since taking the helm of the Federal Emergency Management Agency two years ago, Craig Fugate has begun a dramatic, common-sense revamp of national preparedness. He has led a Twitter-driven campaign to recalibrate American attitudes toward disasters and the role of FEMA amid the rubble.
In keeping with that do-something reputation, Mr. Fugate planned to be on the ground in Alabama Friday, to talk recovery with officials and hear from disaster survivors. Planned stops included an emergency command post in Phil Campbell, a Disaster Recovery Center in Hackelburg, and Bethel Baptist Church in Pleasant Grove.
With an estimated 328 dead and thousands homeless, the April 26-27 tornadoes became the agency's biggest post-Katrina challenge. Early praise for FEMA's response from Southern governors suggests that this may mark a turning point for the tarnished agency.
"In a big disaster like this, you usually start hearing complaints from state and local officials within at least 72 hours," says David Schanzer, a homeland security expert at Duke University in Durham, N.C. "If you're not hearing [complaints], it's usually an important sign that things are going pretty well."
---