Why debt limit issue may drag on through Election 2012
House Speaker John Boehner calls for trillions in spending cuts as a condition of raising the national debt limit. Is that bar so high that Congress will do short-term fixes – and wait for voters to speak in Election 2012?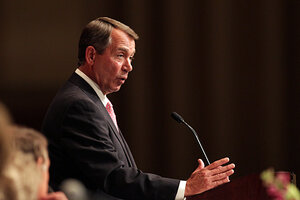 Kathy Willens/AP
House Speaker John Boehner's call for trillions in federal spending cuts as a condition for increasing America's $14.3 trillion debt limit just raised the bar for budget talks between congressional leaders and the White House, set to resume Tuesday – a move likely to keep the debt limit issue running through the 2012 election.
Allowing the United States to default on its debt would be "irresponsible," Speaker Boehner told the Wall Street financiers' Economic Club of New York on Monday. "But it would be more irresponsible," he said, "to raise the debt ceiling without simultaneously taking dramatic steps to reduce spending and reform the budget process."
In laying down his marker, Boehner signals to the White House that Republicans will exact a high price to raise the debt ceiling, to be paid off in spending cuts, not tax increases. With Democrats rejecting cuts to Social Security and Medicare, there's little left that could deliver the trillions in cuts. One alternative is to pass short-term debt-limit deals, each accompanied by spending cuts, until Americans weigh in on the issue in 2012 elections. Another is that Congress adopts dramatic structural moves to overhaul the budget process such as passing a balanced budget amendment to the Constitution – a long process that also would be certain to run through the 2012 election.
---