Is Donald Trump's presidential star falling? Polls and pundits see a dip.
Donald Trump was the top choice for 26 percent of Republican voters last month, but now 8 percent say he's their No. 1 pick.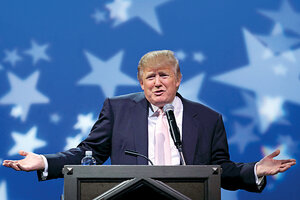 Julie Jacobson/AP
More than a few Republican strategists are hoping and praying that Donald Trump's 15 minutes are just about over as a potential presidential candidate.
Former Bush adviser Karl Rove has called the idea of a presidential run by the real estate mogul/reality TV star a "joke." Pollster Whit Ayres dubs him "a snake oil salesman." In private, Republicans worry that he's so good at attracting media attention, he has deprived more credible candidates of political oxygen.
But now that the Obama birth certificate issue has faded, The Donald's poll numbers among Republican voters are fading too. In the newest major poll, by Public Policy Polling (PPP), Mr. Trump is down to 8 percent. PPP, a Democratic firm, had him at 26 percent a month ago. Overall, in the Real Clear Politics rolling average of major polls, he has slipped to third place with 13 percent among GOP voters. Former Massachusetts Gov. Mitt Romney and Arkansas Gov. Mike Huckabee are each a bit above 16 percent.
But Trump may have another five minutes left on the clock. He has promised to announce his presidential intentions (yea or nay) by June, though he will not reveal an announcement date during the two-part season finale of his show "The Celebrity Apprentice" May 15 and 22 as previously stated, Mr. Trump's spokesman told National Journal.
---