Rahm Emanuel file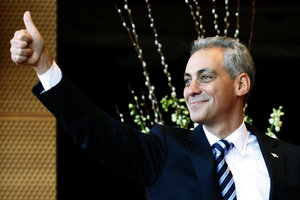 Charles Rex Arbogast/AP
Born: Nov. 29, 1959, in Chicago
Parents: Benjamin Emanuel, an Israeli-born pediatrician, and Martha Smulevitz, a social worker
Education: B.A. from Sarah Lawrence College, M.A. from Northwestern University
Siblings: Four, one is a cancer specialist and bioethicist at the National Institutes of Health and another is a Hollywood agent
Wife: Amy Rule, who holds two master's degrees
Children: a son and two daughters
Religion: Jewish
Work history: Worked at Arby's in high school. Began his political career with Illinois Public Action, a consumer group. Served on several local and national campaigns in the '80s, excelling as a fundraiser. Joined Bill Clinton's presidential campaign in '91 and later was a senior adviser in the White House. Became managing director of a global investment bank. Elected to Congress in 2002. Was President Obama's chief of staff until last fall.
Odds and ends: Was a classically trained ballet dancer as a teen. Runs triathlons. Inspired elements of the Josh Lyman character on "The West Wing."
---
Follow Stories Like This
Get the Monitor stories you care about delivered to your inbox.