Why such a warm reception for Benjamin Netanyahu at US Congress?
Israel's Benjamin Netanyahu drew a line in the sand Tuesday during his speech to the US Congress, regarding future borders with any new Palestinian state. The applause was enthusiastic.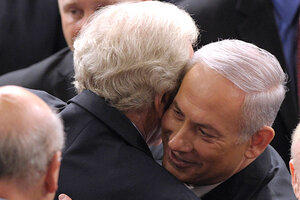 Susan Walsh/AP
The moment many US lawmakers were waiting for came toward the end of Israeli Prime Minister Benjamin Netanyahu's speech Tuesday to a joint session of Congress. "Israel will not return to the indefensible boundaries of 1967," he said, to a vigorous burst of cheers and applause.
With that, Mr. Netanyahu may have demonstrated that the American Congress stands with Israel, and not with President Obama, on the matter of a starting point for resuming peace talks with the Palestinians – if and when such negotiations ever do resume.
That, perhaps, does not come as a huge surprise, given the shared Judeo-Christian tradition and shared democratic values. But there's also the pro-Israel lobby, long one of the most effective on Capitol Hill. Since 1990, pro-Israel groups have contributed more than $97 million to congressional candidates – 67 percent to Democrats and 33 percent to Republicans, according to the Center for Responsive Politics in Washington. Some 38 lobbyists are registered on pro-Israel campaigns, spending more than $8.6 million to lobby Congress and the White House since Mr. Obama took office.
---