Medicare: Republicans voice resolve as they prepare to face constituents
House Republicans, heading home for a recess days after a Democrat won a special election in New York, say they're ready to explain their stance on Medicare reform to voters.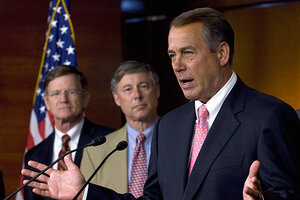 Harry Hamburg/AP
House Republicans are sharpening their message – but not backing down – after a surprise drubbing in a New York special election in which the Democratic victor targeted their plans to overhaul Medicare.
One reason the party is not running scared is that 2012 elections are more than a year away. Moreover, the 87-member GOP freshmen class campaigned on making bold, tough choices to get the nation's fiscal house in order. Taking hits was to be expected, GOP lawmakers said in interviews after Tuesday's election in New York's 26th congressional district.
"Medicare as we know it is only going to be around for nine years – we're saving it for future generations," says freshman Rep. Jon Runyan (R) of New Jersey, a former NFL offensive lineman, who is heading home for a town meeting where the issue is sure to come up next week.
"I've been answering questions about this plan every day," he adds. "You've got to slow it down and explain it to them. You've got to drive the message home: If you say it to the point that you are sick of it, you're almost there."
The message, according to House Speaker John Boehner of Ohio, comes down to three facts: "The only plan out there to preserve and protect Medicare for current and future retirees is the plan that we've put forward," he said at a press briefing on Thursday.
---