Republicans to Obama: Where's the Democrats' budget-cutting plan?
In a meeting with President Obama, House Republicans urged him to force Democrats to offer their own budget plan. Obama demurred, but he did offer Republicans some hope.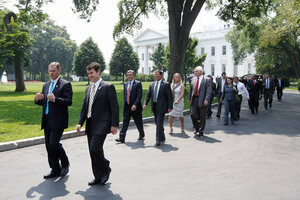 Charles Dharapak/AP
House Republicans failed to pin down President Obama on plans to cut spending and rein in deficits during a meeting Wednesday. But at least some came away heartened by what they saw as a new openness by Mr. Obama to potential points of compromise.
In the balance is not only the federal budget for fiscal year 2012, but also a vote to raise the national debt limit before the expected default date of Aug. 2.
In recent weeks, Republicans have been angered by Democrats' repeated attacks against the GOP budget plan – saying that Democrats should then propose their own. In what participants described as the most pointed exchange of meeting, Rep. Paul Ryan (R) of Wisconsin, the architect of the GOP budget plan, called on the president to stop the demagogy over Medicare – a major element of the Ryan budget.
The meeting helped to "clear the air," said Congressman Ryan. "If we demagogue each other at the leadership level, then we're never going to take on our debt," he said at a press briefing after the meeting.
---