Anthony Weiner: Were his dreams of being mayor just Twittered away?
It's clear Anthony Weiner wants to be mayor of New York. Just as clear, say analysts, is that 'Weinergate' will arm his political rivals for years to come, and isn't likely to 'just go away.'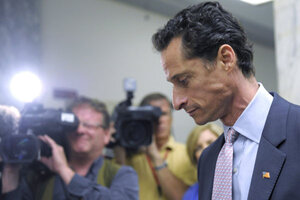 Susan Walsh/AP
Democrat Rep. Anthony Weiner makes no bones about it – he wants to be mayor of New York City.
He has already run once (he lost in the primary in 2005), told the media of his interest in running again in 2013, and has raised cash for a possible run.
He's described as brash, aggressive and fast talking – all traits that appeal to many New Yorkers.
So, what damage has he done to his political ambitions with what the media is terming "Weinergate," the uproar over a lewd photo that went from his Twitter account to a coed in Seattle?
Congressman Weiner denies he sent the photo, but that's as far as he goes. He suggests someone may have hacked into his account, but he does not want an official investigation – instead he's hired a law firm and private investigator. He says he can't say if the photo is his … uh, underwear. And, after a round of talk shows on Wednesday, he now says he won't talk about it anymore.
Weiner's problem illustrates how in politics it's not just the possible scandal that matters but – even more importantly – how it gets handled. Do the public and media feel like they are hearing the truth? Is it the kind of scandal that might reflect on a politician's character?
In Weiner's case, political analysts say the congressman has muddied the waters.
"What he has provided has been very confusing," says Lee Miringoff, director of the Marist Institute of Public Opinion in Poughkeepsie, N.Y. "We're back into a vocabulary of non-denial denial."
---