Mitt Romney's Mormon religion: Is it a political problem?
Mitt Romney says as president he would not be swayed by his church. But a significant number of voters – especially evangelical Protestants – say they would be less likely to vote for a Mormon.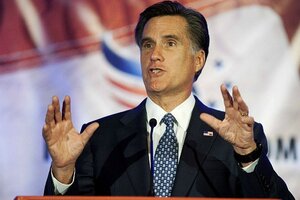 Joshua Roberts/Reuters
Mitt Romney – the presumed front-runner in the Republican contest to select a presidential challenger – is a well-known figure in American politics.
He's been a governor, a businessman, and the guy who rescued the 2002 Winter Olympic Games from mismanagement. That's the good news for Romney.
But the fact that he's a well-known figure in American politics is also his major challenge.
Election 101: Nine facts about Mitt Romney and his White House bid
He has a record that he must either defend or try to move away from without appearing to flip-flop on such issues as abortion, gay rights, gun control, climate change, and government health care policy – issues on which he's held relatively moderate positions in the past.
He's "establishment" at a time when that's a pejorative for a tea party movement more interested in the likes of Michelle Bachmann, Herman Cain, Sarah Palin, and the Pauls (Ron and Rand).
And then there's his religion, which remains a cause for pause among millions of potential voters, especially the white evangelical Christians prominent among primary and caucus voters.
---