Obama faces his own political 'headwind' on the economy
President Obama is enjoying his best favorability ratings in months. But polls show Americans are worried and mad about the economy – a fact that's a major challenge to Obama's reelection bid.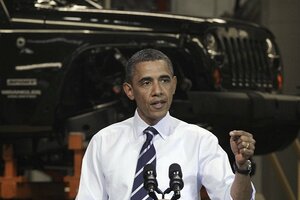 Paul Sancya/AP
As he looks ahead to his reelection fight, President Obama should be feeling pretty good.
His approval rating is at a 16-month high (53 percent, according to the latest from Gallup). He's marshalling an impressive team of campaign professionals deployed around the country, plus a fund-raising capability that is historic. And Republicans – so far, at least – seem to be less than thrilled with their lot of hopefuls, some of whom have pulled out and some of whom carry high negatives among the general voting public.
But Obama faces a major hurdle to reelection: the state of the US economy, in particular the increasingly sour political mood as a result.
According to a Newsweek/Daily Beast poll, Americans are mad as heck about the US economy, and they don't think much of Obama's response.
Among the numbers: By nearly four-to-one, Americans say government is not solving the nation's economic problems; 70 percent are nervous about their retirement; about one-quarter say their family's economic situation has impacted their health or marriage (most say adversely); and Obama gets bad grades on reducing the deficit, cutting spending, and balancing the federal budget – that is, people don't think he has a real plan to remedy those issues seen as critical to economic recovery.
"Reality is beginning to break down Americans' normally optimistic attitude," writes political strategist Douglas Schoen in an analysis of the results he gathered. "Three-quarters of our respondents think the country is on the wrong track. A majority say the anxiety wrought by this recession has caused relationship problems and sleep deficiency. Two-thirds even report being angry at God."
The only solace Obama might find in this poll is that Americans are no less down on Republicans.
---