Rep. Weiner confesses 'terrible mistakes.' Did he save his career?
After a week of dodging questions, Rep. Weiner says he sent a lewd photo of himself and lied about it. Nancy Pelosi calls for a federal investigation. Will voters forgive him?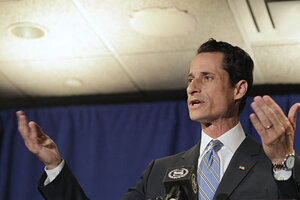 Brendan McDermid/Reuters
Saying he had made "terrible mistakes" and had lied about it, Rep. Anthony Weiner finally came clean.
After a week of dodging questions over whether he had sent a lewd photo of himself to a coed in Seattle, the grim-faced congressman admitted that and more at a press conference Monday in New York City.
He admitted he sent photos and had on-line chats – even intimate phone calls – with at least six women over the last three years. He termed his own behavior "destructive," especially since he continued the practice of communicating with women and sending them risky – even nude – photos, even after he was married.
Representative Weiner, saying he was taking full responsibility for his actions, announced: "I have not been honest with myself, my family and supporters, and the media."
Whether his at times emotional confession was sufficient to rescue his political future, however, was not clear.
The New York Democrat, who was elected to Congress in 1999, said he would not resign his seat representing Brooklyn and Queens. Weiner said he notified Rep. Nancy Pelosi of California, the Democratic House leader, on Monday afternoon.
Representative Pelosi quickly called for a federal investigation to determine if Weiner had violated any House ethics rules or used national resources. Weiner said he would cooperate fully.
---